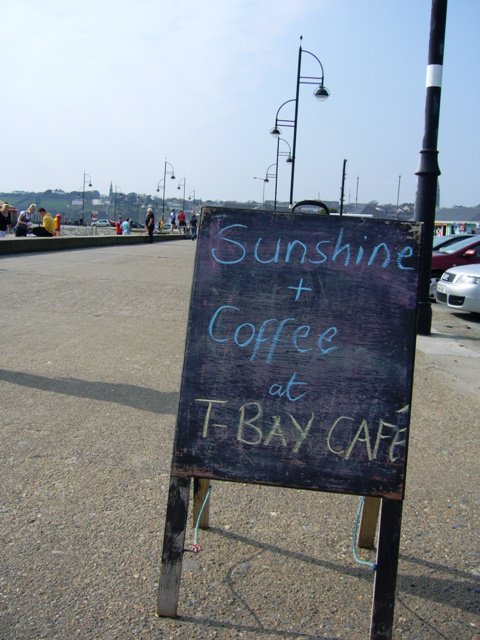 Tramore has a reputation for being tacky and rundown. I love the tack. Those flaking neon rusting paints may look crap in the summer but in the lonely, cold, rainy greys of winter the flashing slot machine lights and folded up rollercoasters look like magic hibernating. Still with a pulse, but not making noise for a while. A sleeping beast.
In recent years Tramore has also become somewhat magic when it comes to coffee too.
T-Bay, the surf club or 'surf and eco centre' has been running years but at some point they revamped the place and introduced locally roasted 'Badger & Dodo' coffee and trained up staff as Baristas. Back in the day i used to go along to what was then a surf rental centre and shop and rent a board and a suit and go and fall around some waves 'til i was blue. Now i drink lattes and eat muffins and sit out on the upstairs balcony and watch the sea or the kitesurfers do a really good job of not falling off. Or sit out on the decking with one of my buddies and catch up.
T-Bay not only serves coffee but serves the community as a kind of central hub to what's going on in the town too. The T-Bay Surf & Eco Centre dedicates itself not only to surf instruction and surf etiquette, but also to ecological awareness and responsibility and is a great resource for schools and adults looking to know which seaweed is edible – right at the same time as all the fancy restaurants are chucking the stuff into their salads and breads.
They hold exhibitions for local artists too. They even open on christmas for a few hours to serve coffee and collect for charity while everyone does the christmas day swim. Because they know everyone will be down at the beach anyway – so they open their doors and let us all in.
It's become something that Tramore needed to get through a quiet few years and a lot of people leaving the now fairly quiet town. And it seems the people who work there and run are aware of how important the place is to the community. It's humble and fun and great and cheesey as it sounds, brings a lot of people together – natives and blow-ins!
Perfect place for a day trip or road trip stop in summer or winter. There's always some craic goin' on in there.