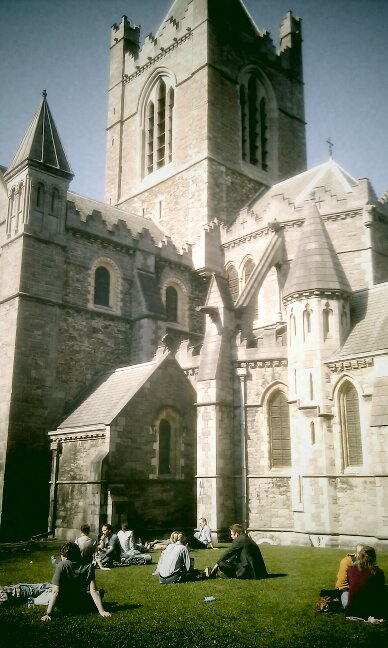 When summer happens in dublin, (generally an odd time like March and while you're in work) lunch places with outdoor seating in the sun get crowded. We all want to savour the little bit of summer that we get. But there are plenty of big and little parks that we forget about. So here's a reminder of one.
The grounds of Christ Church Cathedral
Lots of room for everyone? Check. Flowers? Check. Trees? Check. Walls to sit on if you wore white pants (hipster) and thus can't sit on grass? Check. Hills to roll down if you're so inclined? Check.
And haven't they even gone and only gotten a HB stand in.
Ice-cream? Check.
And the message i'm getting from this is that Jesus wants us to have ice-cream. It makes sense when you think about it. If he loves everyone, he would want us to have ice-cream.
So you can sit there enjoying your chicken fillet roll or your 'Leo Burdocks' and can of coke. Admire the truly mental architecture. Have a wee lie down in the sun. Have yourself an ice cream. Roll down the hill. Deal with the ensuing nausea. And pop back to work.
If only summer happened for more than a week.