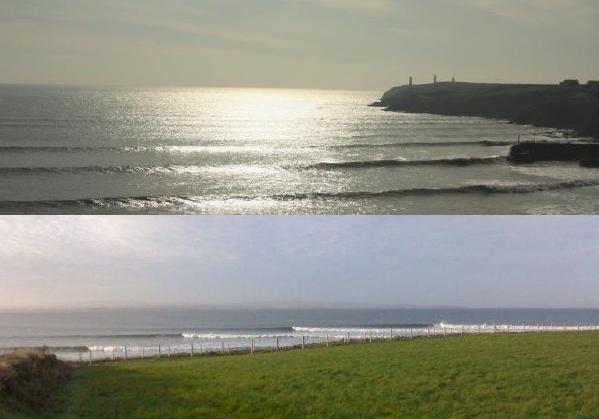 Swellseekers.ie & Me – Guest Post by Liam Sinnott*
My name is Liam Sinnott I'm 29 years old and I'm a bricklayer from Tramore. I have been surfing in Tramore since I was 11 years old. I left school at the age of 16 after my junior cert because back then all I was interested in was being on the beach surfing. So I got an apprenticeship in bricklaying and loved having money to spend on new gear for my hobby. Back in those days there was only a small number of people surfing in Tramore but now the surfing industry has exploded in Ireland and there are lots of people of all ages taking up the sport.
When the Celtic tiger in the new millennium hit Ireland and the construction industry was booming I lost my way a little and instead of surfing I spent most of my time working all week and partying all weekend. For five years of my life, surfing was but a distant memory as work and my social life took over from what I had enjoyed so much as a teenager.
In 2003 I travelled to Oz, Bali, Fiji and Hawaii on a years working visa and started surfing again in the warm locations around the globe. When I returned to Ireland I once again fell into the same path as before, working and partying all weekend and only got to surf a few times a year, if even. Looking back on it now it was such a waste. I could have been working, surfing and partying and had a great time doing it.
In 2008 when the recession hit Ireland I couldn't find work to pay the rent in a house id lived in for 3 years. I ended up signing on the dole and applying for rent allowance. I moved into a one-bedroom apartment in Tramore and sat there for six months feeling sorry for myself, wondering where it had all gone wrong. At that point I started to surf again every day and life seemed to get a bit brighter. I was caught once again by the surfing bug I had as a teenager and I was loving it!
A few friends and I started to travel looking for waves when Tramore was flat and the result was something special. We found ourselves travelling all over the country searching and seeking bigger and better swells on the coastlines of Ireland. We had some magical days surfing around Ireland and when we got home it wasn't long till we were planning our next trip.
Planning these trips depends a lot on the weather forecasts and information from international surfing websites, which sometimes can be misleading. This led us to to what we call in the surfing world, "skunked". Driving for three hours to find when we get there that there are no waves or that the conditions are just not what we were informed they would be. It's not a good day when this happens.
On the way home from these skunked surf trips we would moan and give out for the three hour drive back, about the lack of information for surfers in Ireland, so I came up with the idea to construct my own surfing website. At that point without even knowing it www.swellseekers.ie [click!] was born.
The last nine months working on Swellseekers has been very challenging. It's not easy starting a project with a budget of zero but I'm lucky to have good friends who support me and have faith in what I'm doing. I pitched my idea to some government agencies and they have helped me a lot with getting it up and running and also gave me grants and funding to kick start Swellseekers. We never stop giving out about the government these days but I have to say there's a lot of hard working people out there that will help you in any way they can to get a new business up and running. It's all out there but it's up to you to go get it!
SO WHAT IS SWELLSEEKERS.IE?
Swellseekers.ie is Ireland's newest website run by Irish surfers whose aim is to connect Irish surfers and water enthusiasts and promote Irish surfing around the country. It will be user friendly and easy to use for even people with only basic computer skills.
Our aim is to establish an online community where water enthusiasts, surfers, kite surfers, wind surfers, canoeists, Kayakers, scuba divers and boat and leisure craft users come together and share their surfing and water sport experiences through chat, photographs and video uploads.
Keep an eye out for it and wish me luck…
Peace out :)
Liam
*Liam wrote this piece in June of 2009 for an older blog. See here for how it's all going http://swellseekers.ie/home/article/swellseekers-ie-who-are-we/