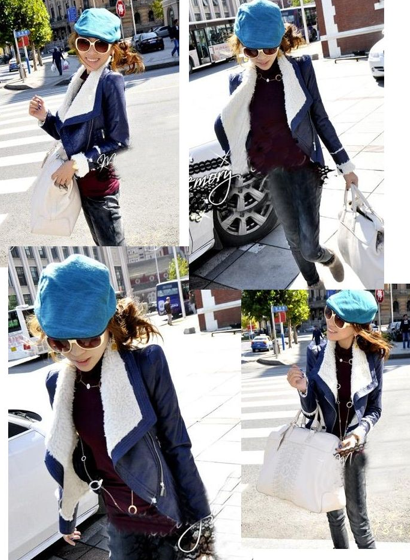 Image stolen without permission from the seller 'Moufa'. At least i think that was the name of the seller/store. The confusion of it all! please don't throw me in blog jail.
I was overly excited recently when, as a present, someone gave me a certain amount to spend on their credit card. I don't have a credit card, so this was exciting because suddenly i was given the option to buy stuff online. Suddenly it seemed as if anything was possible. Like anything i could dream up i could buy. So i started my quest excitedly after arriving home from work last night.
The first step was the funniest bit. I attempted to type 'Where do Japanese people buy clothes online?' into Google. I had gotten as far as, 'Where do Jap…" before being prompted with the following search options….
Where do Japanese people come from? Really? And where to Japanese tourists go?! Do they go missing a lot?
I was looking for Japanese stores specifically as Japanese girls, and i'm sorry to generalise but, they are great at looking amazing. In fairness they are all tiny and have amazing skin and hair from eating all that fish and seaweed (again, generalising) but they just seem so effortlessly chic and pretty. And i would like me some of that. So i might as well try their stores.
After a lot of googling and a lot of being ditracted by other sites and other pretty things, i eventually shopped from two.
elva likes this: Top 2 Online Japanese Clothes Stores
Rakuten seems to be a sor of a Japanese version of Amazon or ebay. It looks busy and confusing but it filters down by categories fairly well. However you will want to have a lot of time for window shopping. There are thousands of products even in a deep sub-category. But there's such an array of stuff that it's fun if you have the time.
2. Yesstyle.com
Yesstyle has a much cooler, cleaner layout and is more fashion and beauty specific. The sellers mostly provide a huge number of images of the product, but mostly all from the same angle and at the same size! I think Rakuten actually has more stuff but there seems to be a higher percentage of better quality stuff on Yesstyle. I could be wrong. I'll know better when / if the stuff ever arrives.
elva likes this: The best things & worst things about shopping online from Japanese sites
1. Their use of the English language is phenomenally beautiful
I am all for correct grammar and spelling in many situations. But i fully believe these rules should be neglected if it in anyway impedes the sentiment and heart of what you're attempting to get across. The descriptions of the clothes were so funny, expressive and unique that it made reading through descriptions a delight.
Phrases like "Weekend styling of most important fact'. "Fashion element in our lives is indispensable flavoring agent". And "Of the hem flare is attractive softly." It made it all the more worthwhile to go on the adventure. If you're a stickler for grammar, this is not the adventure for you.
2. Sizing
Although you can't pick from sizes your accustomed to, they list the measurements of ever bit of the garment. Shoulder, bust, waist, length at the front, length at the back and more depending on the product. To me this seemed almost better than sizes, which can very from place to place, and when you're not getting to fit something on, the more information the better. If you don't have a measuring tape handy, you can check measurements on size charts against sizes you already know. For example the miss selfridge site lists measurements for UK 6, 8 10 etc.
3. Variety
So much variety. Both a good and a bad thing. Totally distracting if you have other things you need to do, like sleep or go to work. But also great if you're looking for something different. I'm bored of shops in Ireland really.
4. Language barriers!
One of my confirmation emails came entirely in Japanese. One of the forms in the payment process also had a disconcerting amount of Japanese for the UK version of the site. Google's translate facility was a blessing but if you're a worrier this might be tough. I think it's part of the fun. The confirmation email could well have told me that they didn't have that item but that they're now going to take all the money from that credit card regardless. And more. And fingers crossed the jacket arrives and in the right colour.
5. Price
Prices were pretty cheap and good options on sale items and stuff too. I have yet to see the quality of what i bought but as it's all different sellers that can't be entirely consistent either. Like anything in life you probably get what you pay for. Keeping that in mind i wouldn't spend a massive amount on something there wasn't enough information or close-ups on. But for low to average spending, it was a brilliant enough selection of things to be very pleased with.
In Conclusion:
In conclusion i'm waiting on that jacket shown above to arrive. So i'm pretty darn happy and excited. It's going to ship within 7-14 days. Could be a bit of a wait. And God only knows what the quality will be like. But if all else fails, someone else may want to take it off my hands and i'll go on another Japanese online shopping adventure.
elva.x